A koi pond is a central element in a traditional Japanese garden. The brightly colored and boldly patterned ornamental carp are highly prized for their beauty both in the East and West.
These water features invite aesthetic contemplation, attention to the natural world, and delight. The great expense in commissioning and maintaining these living art treasures confers considerable status on the owners and their families.
Koi- and Zen-inspired landscape designs have been sources of inspiration to master painters and printmakers for centuries.
The "Koi Pond" print series evolved from scans of my mixed-media paintings. These pieces incorporate traditional Japanese papers (called Washi) that I embellish with pigmented inks and colored pencil. The electronic files are then mixed with photographs of koi, using Photoshop software.
The final signature prints are available in two sizes: letter size (8.5 by 11 inches) and 17 by 22 inches. Both are printed on museum-quality papers with pigmented archival inks. All prints are signed and dated. It is an edition of 100 prints per image.
I have also created hand-painted rag mats for each piece; these are recommended for gallery exhibitions and personal collections. Samples are available upon request.

| | |
| --- | --- |
| TwoKoiGold | BlueSwirlsRedKoi |
| BlueSquaresGoldFish | GoldenSquaresKoi |
| GoldFishGreen | RedGreenBubbleFish |
| RedGoldBubbleFish | BigFishLittleFish |
| SwirlSchoolFish | SunKoiSpring |
| FourthsFish | GoldenSchoolFish |
Simple Exhibition System
The following photos show a simple and low cost exhibition system. It requires only standard metal office folder clips, small-headed nails, and prints.
The 17x22 inch sheets have been sprayed with Hahnemuhle brand protective spray. This is the preferred coating for Hahnemuhle Fine Art Ink Jet papers.
The suggested height measurement from the floor to top edge of print is 72 inches, with eight inches between prints. Personal preferences may vary.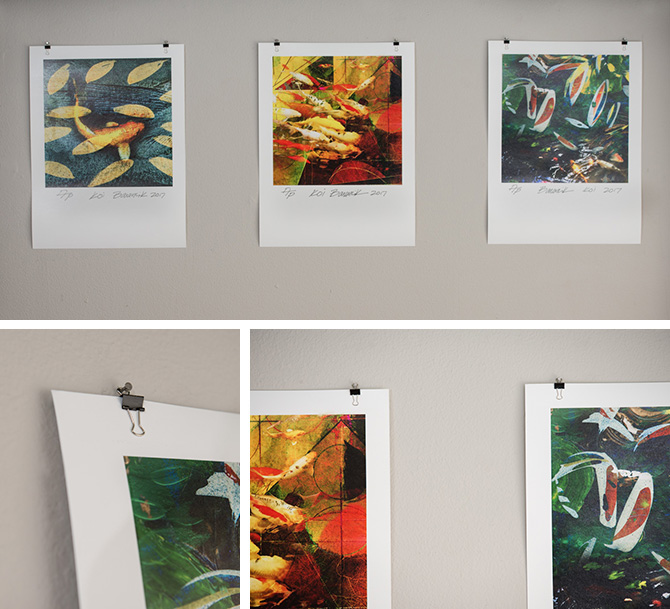 The prints are shipped in an archival photo box or in a bound plastic album. Clips and nails can be provided upon request.
This contemporary exhibit system provides an intimate viewer interface with the art and is efficient in terms of money and effort. There is no need for matting and framing, or crating of each print.
Please contact Bob Barancik for additional exhibit information and prices.
Contact Bob Barancik
email: bobcreates@earthlink.net
cell+text: 215.964.3937
Hanging Textile Scrolls