Maine / Florida — America's Leading Edges Confront the Global Economy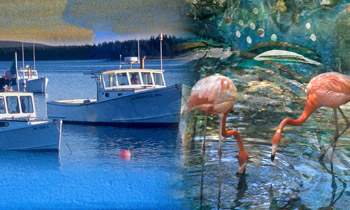 Introduction
Maine / Florida History (Video & Audio)
Dr. Joel Eastman is a born and bred Mainer, and co-author of Maine: The Pine Tree State from Prehistory to the Present published by the University of Maine Press.
Dr. Gary Mormino is Director of the Florida Studies Program at the University of South Florida in St. Petersburg, and author of Land of Sunshine, State of Dreams: A Social History of Modern Florida published by University Press of Florida.
Conversation with Ron Hill (Video & Audio)
Dr. Ron Hill is the Senior Associate Dean at Villanova University's School of Business, and former Dean of the School of Business at the University of South Florida in St. Petersburg.
Bruce Bornstein is a Maine bred entrepreneur, business executive, and a founding board member of the Maine Technology Institute.
Conversation with George Sherman (Audio)
George Sherman is an Adjunct Instructor in Applied Ethics at St. Petersburg College and involved in the Earth Charter Initiative.
Conversation with Pedro Jarquin (Audio)
Pedro Jarquin is a highly accomplished young poet and performance artist; and graduate of Eckerd College in St. Petersburg, Florida.