Conversation with Pedro Jarquin
Download the MP3
Right-click (Mac users: CTRL-click) and choose the "Save As" or "Download As" option.
---
Bio
Pedro Jarquin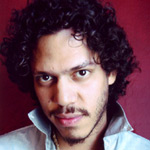 Born in Managua, Nicaragua, Pedro was born with poetry laced into his bloodstream. At an early age some of his family members began calling him "Darillito," after the great Nicaraguan poet Rubén Darío, due to his love of reading, reciting, and writing poetry. He grew up in the Washington D.C. area and spent most of his life onstage, whether in choir, theatre, learning and teaching dance, or performing poetry. Coming to the US, he learned English by listening to rap and hip hop artists like Bone Thugs-N-Harmony, setting the foundation for his seemingly effortless rhythmical freestyle future.
Now a resident of the city of St. Petersburg, Florida, he has behind him a long list of accomplishments in the spoken word world. He opened for Russel Simmons' "Def Poetry Jam" at the Tampa Bay Performing Arts Center, organizing the first local poetry-based Ticket Master event in Tampa Bay ("Foolish State") with his troupe of artists, known as the Nation of Poetry. Pedro also plans, hosts, and performs at various venues around the Bay area and beyond state lines as well. Amongst many, he has done shows through the Studio@620 in St. Petersburg, where he currently hosts a monthly poetry and mixed medium open mic night and a yearly week+ long poetry festival called "Say What," celebrating the spoken word. Studio@620 has also hosted his original Spoken Word plays.
Pedro has experience in film in addition to his extensive spoken word work. He has appeared as the likeness of Christ in Martita Contreras' film installation "Via Crucis." He provided lyrics and vocals as part of the Purple Burble for Bob Barancik's acclaimed film "Torn Asunder," which has traveled the country.
---
These specific CreativeShare Digital Dialogues were recorded on Peaks Island, Maine on August 11th and 12th of 2008.
The views freely expressed during the event are those of the individual. They do not represent the opinions of CreativeShare or the organizations that the participants might be affiliated with.
For additional information email Bob Barancik at bobcreates@earthlink.net.
---